Early Detection is One of the Best Weapons in the
Fight Against Breast Cancer
Breast cancer kills 40,000 women each year in the United States. Early detection is the key to fighting it successfully. Because screening mammography is so important in identifying breast cancer at the earliest, most treatable stages, it is vital that women choose a breast imaging center with the highest level of clinical expertise and access to advanced screening and diagnostic technologies.
Research shows that where you get your mammogram makes a difference and that your mammogram is only as good as the radiologist who reads it. AMI's team of breast imaging specialists are dedicated to providing the most accurate and timely diagnostics, in a comfortable and relaxing environment. Our breast imaging specialists are all fellowship trained and understand the spectrum of breast imaging, from routine mammograms to breast biopsies. Each year, our team of breast imaging specialists read over 50,000 mammograms and perform over 1,000 minimally invasive breast biopsies.
Atlantic Medical Imaging currently has 12 breast imaging locations, including a mobile breast center – all accredited by the American College of Radiology and certified by the FDA. In addition, our centers are recognized as Breast Imaging Centers of Excellence by the American College of Radiology.
Don't Put Off Your Screening Mammogram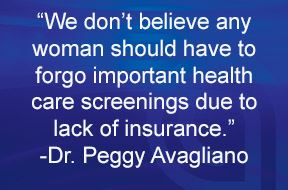 The risk of breast cancer increases as women age. The American College of Radiology and the Society of Breast Imaging recommends routine screening mammography should begin at age 40. Some physicians advocate screening beginning at a younger age for women with certain risk factors. Screening should continue throughout a woman's lifetime. Once is not enough.
The goal of screening exams is to find cancers before they start to spread and cause symptoms. Breast cancers found early during screening exams are far more likely to be smaller and contained, greatly improving the chances of successful treatment.
"We all know that annual mammograms are vitally important," said Dr. Peggy Avagliano, head of women's imaging at AMI. "We don't believe any woman should have to forgo important health care screenings due to lack of insurance."
Throughout the month of October, AMI is offering free screening mammograms to women 40 and older with no current or past breast issues. The free screening program is funded through the AMI Foundation.
Atlantic Medical Imaging offers a full range of breast imaging services from 3D Digital Mammography to breast biopsies. Our 12 breast imaging centers are located in Atlantic, Cape May, Cumberland, Monmouth and Ocean Counties, with convenient evening and weekend appointments available.
To schedule your screening mammogram appointment online visit, https://ami.opendr.com/ or call (609) 677-9729.