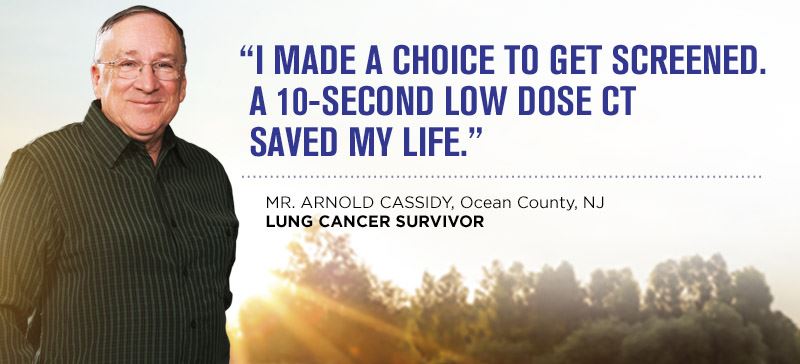 For 35 years Arnold Cassidy smoked 1 pack of cigarettes a day, that is, until he turned 56, and the Great American Smokeout inspired him to quit.
Despite his 35 years of smoking and a family history of lung cancer (his father and aunt both passed away from the disease) Mr. Cassidy was apprehensive about getting a lung screening. He simply didn't want to know. When his doctor finally convinced him to come to AMI for a low dose CT lung screening, our physicians detected a nodule they immediately began to monitor. When that nodule increased in size he was ultimately referred for surgery, where the nodule was removed and a biopsy confirmed a non-single cell nodule (slow growing cancer).
Because that nodule was caught and removed before it could spread, Arnold didn't require chemotherapy or radiation. Today he rests easy while he enjoys spending time with his wife Barbara, their daughter and 3 grandchildren.
If there's one piece of advice Arnold would like to communicate to smokers, it's to be proactive and get checked.
National studies have shown low dose CT lung screenings can diagnose early stage lung cancer. Early detection can lead to improved outcomes.

If you are a current or former smoker 55 or older, talk to your doctor about low dose CT lung screening.

For more information about AMI's low dose CT lung screening, CLICK HERE +